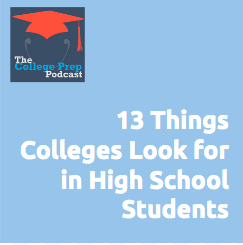 Wish you knew exactly what colleges look for when they evaluate high school students?
In this "mini-cast" episode, Megan share's a list of skills and experiences that help high school students stand out from the crowd when applying to colleges.
The list was compiled by members of the Independent Education Consultants Association in 2018.
Tune in to hear Megan share the thirteen skills and experiences everyone agreed were most important. She will comment on each item (at least one of which she actually disagrees with!).
You can also access the original list here.