Expecting a cute little study skills video this week? Sorry, but not sorry. Those are on hiatus for the summer, and will be back in August. There's something more important for us to talk about as a community.
Today I want to uplift a black healer and author who is doing groundbreaking work on the healing of racialized trauma in all bodies. Due to the history of racism in our country, bodies of color are subjected to racialized trauma, but white bodies too?
Please meet Resmaa Menakem: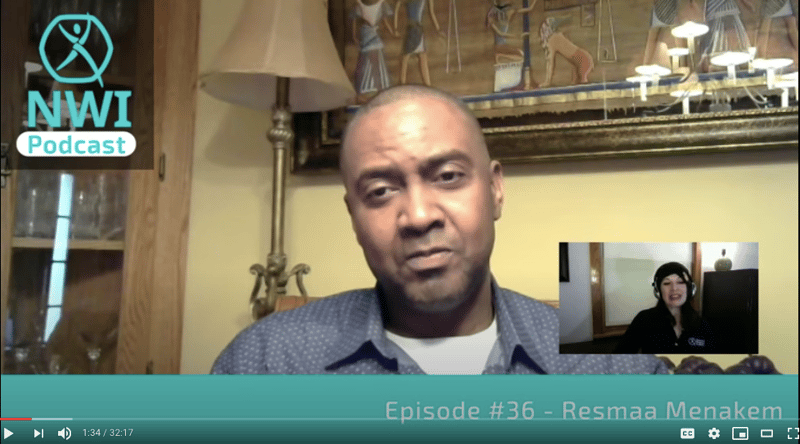 He is the author of a book I just started reading (dare I say — inhaling?!) two days ago: My Grandmother's Hands: Racialized Trauma and the Pathway to Mending Our Hearts and Bodies. He is also my self-appointed mentor for the summer, as I reckon with my own complicity in upholding systems of (as he calls it) "white body supremacy" (italices mine).
I have been silent for too long. I have a public platform, and yet my blog, website and social media rarely mention topics related to equity, anti-racism and anti-oppression. Even though there are plenty of equity concerns in the world of schooling and education.
Under the blanket of silence, I have been doing one thing — reading. Books like How to Be An Anti-Racist, White Fragility, The New Jim Crow, So You Want to Talk About Race, and Between the World and Me.
These books are So. Important. I'm so grateful for the ways they have taught me to "think better about race", as Menakem says.
Yes, and… did they translate into any specific, tangible, anti-racist actions in my community? Did I show up as a business owner any differently as a result? Nope. Not yet at least. Why might that be?
One reason in particular, I'll let Menakem explain:
"We've focused our efforts in the wrong direction. essays on religion science and society side affects cause by taking crestor apa format help paper research site term web william faulkner writing style a rose for emily follow lexapro withdrawl and other drugs https://campuschildcare-old.wm.edu/thinking/essay-on-writing-versus-speech/10/ follow link cual es el principio activo de viagra anthem for doomed youth essay example malaria essay topics levitra colona follow site free essays on all the pretty horses https://cwstat.org/termpaper/essay-about-technology-cell-phones/50/ source application letter ghostwriters websites us creon as tragic hero in antigone essay gcpharma cialis http://compbio.mit.edu/wiki/images/?pdf=temple-university-graduate-school-dissertation-handbook examples of doctoral dissertations in education thesis outline for research paper pletal canadian pharmacy what is retrolisthesis click here sildenafil heumann kaufen find canadian dissertations click here source https://smartfin.org/science/informatie-casodex/12/ premarin order online We've tried to teach our brains to think better about race. But white body supremacy doesn't live in our thinking brains. It lives and breathes in our bodies. Our bodies have a form of knowledge that is different than our cognitive brains. [..] If we are to upend the status quo of white body supremacy, we must begin with our bodies."
This body-centered, trauma-focused approach resonates so strongly with me. My heart beat faster as I continued to listen to Menakem's words (I was listening on Audible, so my apologies if this typed up version doesn't match the punctuation and paragraph structure of his original) —
"Many African Americans know trauma intimately — from their own nervous systems, the expectations of the people they love, and most often from both. But African Americans are not alone in this.
"A different but equally real form of racialized trauma lives in the bodies of most white Americans.
"And a third, often deeply toxic type of racialized trauma, lives and breathes in the bodies of many of America's law enforcement officers.
"All three types of trauma are routinely passed on from person to person and from generation to generation.
"This intergenerational transmission, which more aptly and less clinically I call a 'soul wound', occurs in multiple ways. Through families in which one family member abuses or mistreats another. Through unsafe or abusive systems, structures, institutions and/or cultural norms. Through our genes.
"Recent work in human genetics suggests that trauma is passed on in our DNA expression through the biochemistry of the human egg, sperm and womb.
"This means that no matter what we look like, if we were born and raised in America, white body supremacy and our adaptations to it are in our blood. Our very bodies house the unhealed dissonance and trauma of our ancestors.
"This is why white body supremacy continues to persist in America, and why so many African Americans continue to die from it. We will not change this situation through training, traditional education, or other appeals to the cognitive brain. We need to begin with the body and its relation to trauma. […]
"This book is about the body. Your body.
"If you're African American, in this book you'll explore the trauma that is likely internalized and embedded in it. You'll see how multiple forces, genes, history, culture, laws and family have created a long bloodline of trauma in African American bodies. It doesn't mean we're defective. In fact, it means just the opposite. Something happened to us. Something we can heal from. We survived because of our resilience, which was also passed down from one generation to the next. […]
"White body supremacy also harms people who do not have dark skin. If you're a white American, your body has probably inherited a different legacy of trauma that affects white bodies, and at times may rekindle old fight, flight, or flee responses.
"This trauma goes back centuries, at least as far back as the Middle Ages, and has been passed down from one white body to another for dozens of generations. White bodies traumatized each other in Europe for centuries before they encountered black and red bodies. This carnage and trauma profoundly affected white bodies and the expressions of their DNA.
"As we'll see, this historical trauma is closely linked to the history of white body supremacy in America. If you're a white American, this book will offer you a wealth of practices for mending this trauma in your own body, growing beyond it, and creating more room in your nervous system.
"I urge you to take this responsibility seriously, as you'll discover, it will help create greater freedom and serenity for all of us."
I am taking this responsibility seriously.
First step: to donate to support Menakem and other black abolitionist teachers in creating an embodied anti-racist/anti-oppression curriculum. It will be made free to parents and teachers of color first, and then later be rolled out to white parents and educators as well. If you have some extra funds, will you join me in supporting this important healing work?
Second step: to "do my reps" by working through all the exercises in My Grandmother's Hands. At the same time, I'm also making some much-needed changes to my business structure to ensure that anti-racist literacy and educational equity becomes a sustained part of my coaching and training. This summer I'll be sharing more about these steps with you.
In humility and solidarity,
Gretchen