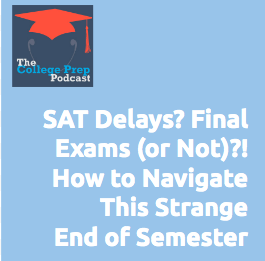 Standardized tests have been delayed. Many high schools are replacing final exams with final projects.
Megan and Gretchen check in about the changes they're seeing in
In the world of college planning and test prep, Megan shares:
How to handle the delays to the SAT and ACT tests (including an explanation of why you don't need to study right now)
What admissions requirements for colleges have changed, and what haven't
The importance of knowing individual school requirements, deadlines, and adjusted policies (including the tip: get on college email lists)
And more!
Gretchen shares:
How to "make time visible" with an end-of-semester plan, regardless of whether you now have a bunch of projects (more common) or final exams (less common)
How she and the other Anti-Boring Approach trained coaches have shifted the way they coach (and why it might be even better than what we were doing pre-COVID
What students are learning about how they prefer to do work (and why this is a good thing)
And more!