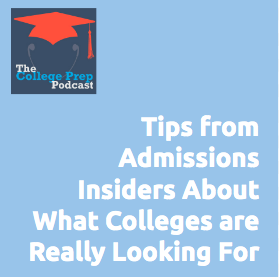 Ever wonder what the folks in college admissions departments actually think about students' applications?
Maxine Seya actually interviewed several of them, and learned a lot in the process, which she shares with the College Prep Podcast.
Join Gretchen and Megan, as they interview Maxine and find out what she learned from admissions insiders about what colleges look for in regards to college essays, extracurriculars, and more! :
Maxine Seya quit corporate America to start SocratesPost, an Amber Grant-winning subscription newsletter delivering US higher ed insights to the world. A journalist by training, she wrote for CNN and HuffPost before working as a college consultant and test prep instructor. After leaving the ed field, Maxine became a US State Dept. featured speaker. She's a proud Northwestern alumna who spends her free time exploring the world with her husband.