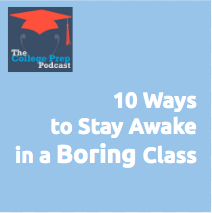 School is boring much of the time! So how do you stay awake and engaged when your whole system wants to tune out?
Gretchen walks students through more than 10 simple ways to keep yourself going so you can learn what you need to learn. Specifically she discusses:
Silly and serious tips for moving your body enough to keep you awake
Smart ways to engage with the subject matter at hand, to keep you alert
Anti-boring ways to listen deeply to your teacher, to keep yourself curious
And more!
Try some of these tips out yourself, and let Gretchen know if any of them help.