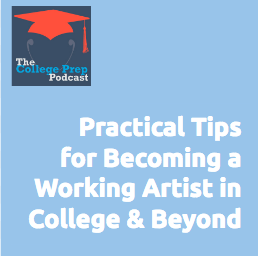 Are you a high school student who is also an artist — a dancer, actor, designer, video game designer, painter, musician, and more? Are you curious how to use your college education to prepare you for becoming a working artist?
Guest Expert Madison Alexander breaks down how to choose the right arts-focused college, write an appealing application, and what on campus resources will help you build your resume and start getting paid for your art sooner rather than later.
After she shares her personal story about becoming a working artist, Madison enthusiastically answers the following questions:
What are the key considerations for writing an artistic personal statement for college admission?
What are important things to look for in a college when pursuing the arts is a student's long-term goal?
What can students be doing to prepare to enter a career in the arts during their time in college?
Lastly, how can parents best support their burgeoning artist throughout this journey?