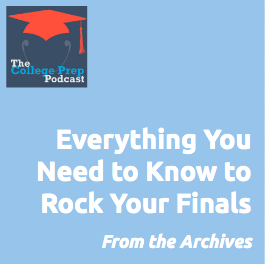 It's final exam season again!
In this episode from the archives, Gretchen walks you through exactly how to prepare for your final exams.
Tune in to the episode to hear more about each of these tips:
Map out your entire approach to final exams on one page, so you can see it all at once.
Plan in breaks so you don't forget to have fun
Practice breaking down each final exam into actionable parts, so that you're clear exactly what you need to do each day to study.
Organize all your papers and supplies so that you locate notes, worksheets, and old tests that can serve as quizzable study tools.
Study in the manner of the test, and plan backwards.
Build in incentives so you follow through with your plan.
Create clear study routines that are attached to a) things you already do or b) things you like doing.
Please note: This podcast originally ran in November of 2015, so Gretchen and Megan refer to Thanksgiving the upcoming winter holidays. However even though the season is different, all the tips are still super relevant.