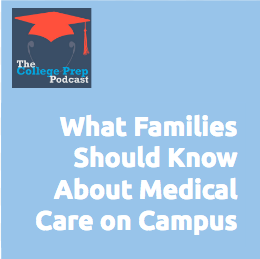 Have you ever considered whether your new college student's medical and mental health needs will be appropriately met by their school's on campus resources?
Megan outlines 10 tips for families to consider about campus medical care as they prepare to transition their students out of the nest family nest and into independent life.
Do your teens know about your health insurance and how to use it to advocate for their own health?
Does your health insurance work at your child's college?
What medical services are available on campus?
Where should students go for after hours needs / urgent care / non emergency "emergencies"
Where / how will your student get his or her prescriptions filled?
Can campus health monitor ongoing or preexisting medical conditions? And what do you need to do to set it up? (allergy shots, lab work, etc.)
What is the extent of the mental health services on campus? What conditions are treated (not treated)? How can see a counselor, who is doing the counseling, how frequent?
What are your off-campus options for counseling / therapy?
What do you need to do medically to enroll your freshman (ie. do they need a physical? Do they need immunizations?)
How can you as a parent stay informed? What type of paperwork should you put in place for medical emergencies?