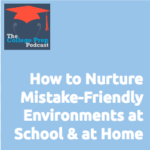 The science shows us that mistakes are an important part of learning and growing, yet our schools and homes are often structured to punish students for making mistakes.
Why is this, and what can be done to create environments that celebrate mistake-making?
Join Gretchen and Megan tin this wide ranging discussion that explores:
Some science behind why mistakes are a crucial part of learning
How the Study Cycle mirrors this science
Tips for creating a mistake-friendly environment
and More!
This is a topic that Gretchen is just beginning to think about with more depth, so if you have any thoughts to add, please email her at gretchen [at] gretchenwegner [dot] com.