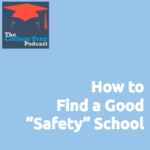 You've likely heard the advice to make sure you include a "safety" school in your college list. However, what exactly does that mean?
Megan helps you understand the two types of "safety" schools you will want to consider, and provides tips for finding these types of schools. Specifically, she and Gretchen discuss:
The two kinds of "safety" schools you need on your list
how to tell if your school is a good "safety" school
How to adjust your mindset about the importance of "safety" schools
Why we keep putting the word "safety" in quotes
How to plan ahead so you're not left in a lurch,
And more!