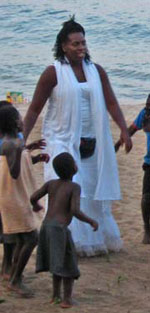 The following post is written by Cynthia Winton-Henry, co-founder of InterPlay.  Every Monday she sends out a morning email, and this week it was so sweet, I just had to share.  There are so many applications for the InterPlay philosophies and practices.  Soyinka Rahim's intergenerational work is yet another crucial example of how InterPlay bridges the divide of difference (in this case age) — and gives people a common way to play.  Here are Cynthia's words:

In an intergenerational, multicultural InterPlay session, Soyinka Rahim led five adults and five children in a warm up.

We squirmed and delighted in moving each body part. There was a mom who had lost her hair due to chemo for breast cancer, her two creative, home-schooled kids, a grandma in her seventies who loves to dance and her two shy grandkids – a boy two years old carrying a toy truck and his sister. There was a single mom whose first grade daughter was wrapped around her mom seventy percent of the time, and there was me. Everyone enjoyed moving. The two year old wanted to watch.
Following Soyinka, we reached out our arms then wrapped them around ourselves. As we hugged ourselves Soyinka said, "Just say to yourself 'I love you. I love you. I love you. Like a chant." As I did it myself, I watched the moms and grandma with eyes closed, sway, and say those words. They weren't trying to say them. They knew that this was important work for them, too.
We moved and played as a group for an hour and half. By the end the littlest and shyest child, the one who was allowed to watch, was dancing and asking people to talk in funny voices as we passed a dragon puppet and used weird voices as we said, "Thank you very much for coming!" As we blew bubbles and thanked Soyinka for leading this class, I thought, "Love your neighbor as yourself." Is the golden rule. In this session we got to do both, and all ages became more than neighbors. We became friends.
(More information: Multigenerational Play with Soyinka in Oakland – 1st Saturdays of the Month at InterPlayce, 10am-noon)