Last week an email from a white colleague landed in my in-box. I couldn't ignore it.
That evening there was going to be an online Town Hall entitled "Reimagining Small Business: A town hall to listen, learn and commit to building equitable, anti-racist organizations."
I felt intuitively that I needed to show up live and in person for this webinar. As someone who owns a small business, interacts with a number of small (and large!) businesses, and trains educators to start their own businesses, it felt imperative that I show up. Although it was last minute, I also invited the folks in my Launch Your Biz Educators' Community, some of whom were able to attend live as well.
What a powerful event. Below I'll explain more about what my specific takeaways were, including more about my emerging plan for how to transition my own business, coaching and training to be increasingly anti-racist in scope.
But first, here's the video. Even though it's about small business, I invite any one interested in creating anti-racist organizations — teenager or grown up! — to watch it. We all are affiliated with organizations, after all, whether those orgs are schools, our employers, or our own businesses.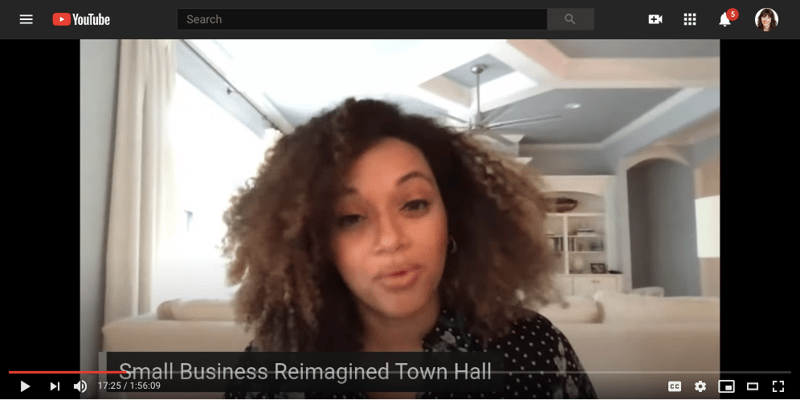 At the end of the town hall, they asked folks to take the "Anti-Racist Small Business Pledge." Below is the short version of the five commitments they asked of us:
Name white supremacy and the impact of racism on both our personal and professional lives.
Engage in anti-racist education for you and your team
Commit to open-conflict and allow discomfort
Invest a portion of your monthly company budget to the Black community
Express your sincere, long-term commitment to becoming an anti-racist organization.
To read the ENTIRE text of the pledge, click here and scroll down to the bottom of the page. I highly recommend it.
I'm putting together an actionable plan that will put these 5 commitments into place in the fabric of my business. This will include:
a list of actions,
dates by when various actions will be implemented, and
the collection of data so that I have something tangible to prove to myself and my community whether I'm succeeding in my goal to be anti-racist.
For full transparency, I'll share that plan (and ask y'all for feedback) soon. Since I usually take the month of July off of work, my hope is to get something to you all by next Wednesday's newsletter. Will I make that deadline? Let's see. Feel free to hold me accountable.
In humility and solidarity,
Gretchen
P.S. Are you a white person interested in gathering in an affinity group with other white people to educate yourself about the history, harms and internalization of racism and White Supremacy?
If so, I highly recommend this organization that is rolling out summer classes right now. They also have an info session TOMORROW if you're curious about learning more and available. I did one of their intensives several years ago and found it so helpful!